My daughters are each having a baby this summer. One is due with a boy in May. The other with a girl in July. It is the first for both of them, and so they are my first grandchildren. At a mere 52 years of age, I will be a grandmother. But, I am a quilting grandmother. Freddie, the boy, is getting a quilt, and so is the girl, who we still don't know the name of. But, I have been sewing clothing for the girl. I sewed so many things for my girls when they were little. It's kind of hard to sew for boys, but I will probably make some button down shirts.
Here is one of the bubble suits that I made for the girl.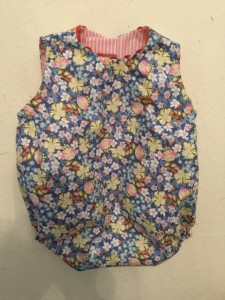 This pattern is available at the Bungalow. We have all the elastic and many, many colors of Ric Rac. It is easy to make, and there are tutorials on You Tube for how to do some of the harder aspects of it, which made it really awesome. I learned some great new ways to do things. Even at my age, you can learn new tricks.