Ever since it arrived in the shop, the silky satin has been sitting in the front room across from my cutting table. It's been staring me down. I keep thinking about how badly I want to make a mid-century type baby quilt.
In the mid 50s to 60s baby quilts were often whole cloth quilts. They were commercially made, but still very pretty. Most of them had little rose buds on them and ruffled bindings or edgings. They were very, well, babyish for lack of a better term.
Often times they used satin. Satin was huge in the middle century. There were satin boxes for your unmentionables and your nylons. Even sewing boxes were made using satin. It had such a smooth comforting feel to it. Many of these boxes were even quilted.
Baby quilts usually had a very simple quilting style to them. They were usually quilted just by sewing on the diagonal in both directions. This gave them a simplicity that was beautiful.
Shannon Fabrics Silky Satin is 100% polyester. Ahhhh good old polyester. Stain resistant, and will stand up to a lot. However, it's shifty. Yes, it is. It's shifty. So this requires a little extra finesse.
Make sure if you're using basting pins that your quilting pins are super sharp. It's not that it's hard to puncture or hard to needle, but you will get little snags if you have to struggle with a dull pin. The snags easily pull out if you smooth over them with your fingers, but just avoid it by having sharp pins.
How do you know which pins are the sharpest? Well, that isn't easy. There are some that are super sharp, but they tend to be larger in size in terms of the hole that they make, so throw out that idea. Especially with silky satin, I don't want a big hole.
I ordered some from Amazon, and I will see if they're better than the ones that I am currently using. The ones that I currently use are called Bohin. What is interesting about these is that they're relatively expensive. There are a lot in the container, but I thought they were pricey. They weren't any sharper for the price.
I remember when my kids were babies and I would occasionally use cloth diapers. We would put the tips of the diaper pins into a bar of soap. It really worked well. The pins would just glide right through the fabric. That's a possibility right there.
Okay. Onward.
Here's how to do this. Decide on the size for your quilt. Silky Satin is 60 inches wide, and so is the cuddle that I put on the back. Makes it easy. Cut them to the same size. Throw the batting in between the satin and the cuddle. Lay on a table that is large enough to keep the satin from sliding. You don't want any drag. This will require frequent smoothing but be careful NOT to let it shift. Watch to make sure that it doesn't shift around. I suppose one could use basting spray, but I don't like aerosolized products, and I am not sure how well it would work on the lightweight poly.
I pin basted every 2 inches. Yup, that's right but it was well worth it. This quilt is going to be gorgeous. I don't want to rip and I don't want it to be wonky. Every 2 inches!
I plan to square it and even it up after it is quilted. Don't even think about having it be exceptionally perfect in the first go around. Just get the layers together without making anything pull or pucker, and to do that the answer is to pin baste like crazy.
I am quilting very, very slowly. I am leaving the pins in until I get very close. The thread that I am using is just a simple inexpensive cotton thread. That is for the shear reason that I had that in the machine and my bobbin was full. However, I would think that Glide would be a very good choice. This was my first experiment with this combination of fabrics, so I thought a simple cotton would suffice. It's working rather well. There's good stitch definition and the tension has been perfect.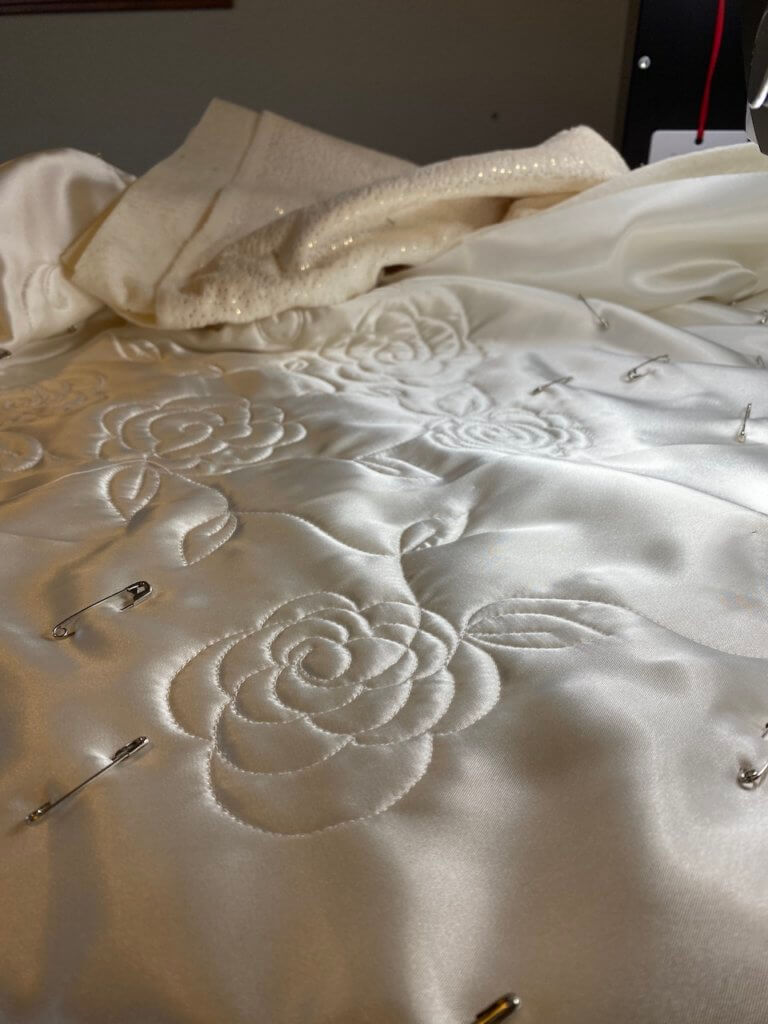 I can't wait to finish this. Once it's done, I will bind it with the satin. I can imagine a child or baby running his or her hands over the binding to soothe themselves. It's such an incredible tactile sensation, and with the sparkle cuddle on the back, wow!
I would like to try this as well with flannel on one side and the silky satin on the other…Just keep sewing just keep sewing!