I just made the most adorable quilt for a little child. It uses the panel from Gingiber for Moda Fabrics called "Thicket". It's woodland animals and it's so cute, dramatic, different! It is truly unique. All I had to do was border it out. But I wanted to do something with it that was worthy of a fabric called "Thicket" that had to do with woodland animals.
So, I put Cuddle Shaggy on the back of it. I did use batting on this one. Sometimes with the Cuddle fabrics you don't have to use batting. The shaggy has a lot of nap, but it's not very heavy weight. It needed batting. So I decided to stipple quilt it. Well, this was going to be a challenge because, like I said it has a lot of nap. The nap is about 3/4 of an inch long. It does shed when cut, but after you shake it out it stops shedding. It stops shedding once the cut edge has lost it's loose cut nap.
I borrowed an idea that I had learned in 4-H a long time ago. I learned that when working with fake furs, you sometimes need to cover your feed dogs. Yes, not only do you drop your feed dogs but you cover them too. Back then, we didn't have the ability I don't recall, to drop your feed dogs. You could only set your stitch length to zero, and that was the equivalent of dropping your feed dogs. So, with the Shaggy Cuddle, I not only dropped them but I covered them with masking tape.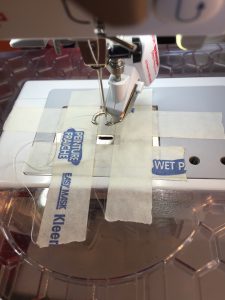 This made for a nice smooth ride, so that the cuddle didn't get stuck. I made my quilt sandwich by pinning it with a billion pins.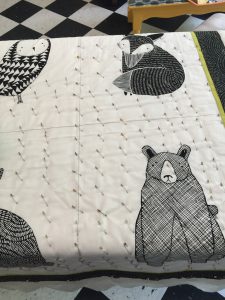 You really need to pin baste very well. There is no substitute for good basting. It will relieve you from all kinds of issues later on. Yes, it really will.
Then, I put on my free motion quilting foot and away I went. I did use my Stitch regulator, but you could certainly do it without.
Instead of just making the back larger and wrapping the shaggy cuddle around to the front, I decided to cut strips and make a binding. The reason for this is that the nap laid differently when it was the piece that was parallel to the selvedge being folded over than the piece that was the width of fabric. The width of fabric was fuzzier, and looked better. When I turned the edge in from the side that was parallel to the selvedge, for some reason, it looked flat.
So, I cut strips. I cut 3 inch strips and then wrapped the edges of the quilt. I made certain that there was the same amount of the strip around the back as there was in the front. No need to turn edges under. This is the beauty of these Shannon Cuddle Fabrics. They are so forgiving and they don't ravel. So nice!
Here's where it gets tricky. Keep the tape over your feed dogs. Pin the strips really well to the edges of the quilt. You could also hand baste. That is what my mother would tell me to do. Use a leader piece of fabric to get started because you're going to need something to help to pull the fabric through, as your feed dogs are down and taped.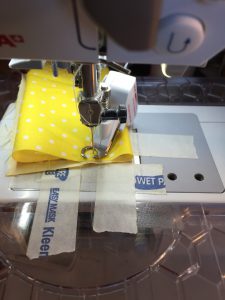 Put your quilt under the presser foot. Lower your presser foot and start to pull the fabric through. Oh, and I forgot one important detail; I'm using a zig zag stitch. I have it set at about a "3". While pulling the quilt through with your right hand, smooth the nap of the cuddle with the left hand. Do it like you are petting a dog or a cat. Pet the binding so that it's nice and flat in front of the free motion foot. Always use an open free motion foot.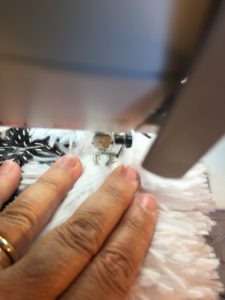 Hold the nap down and pull with your right hand. Get your hand out of the way of the needle but continue to hold the nap down. You can even use a cheap plastic comb to hold the nap down with your left hand, while pulling the fabric with your right hand. If you have a stitch regulator it will come in handy. When you get to the end of a side, you can just turn the corner by doing a little curve on the strip of cuddle. It is so forgiving, and because the nap is so long, you won't even see it. It will look great.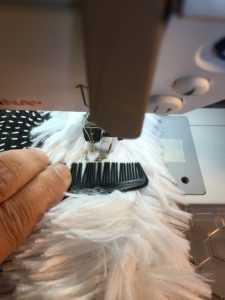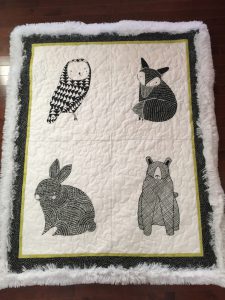 I love the way it turned out. Look at the back. It looks sculpted.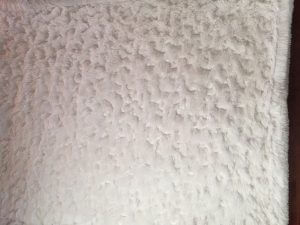 Don't be afraid to work with this fun and fabulous fabric.