Here's a great opportunity for you to learn how to make an umbrella. We know that many of you are far away, and can't make it in to the Bungalow to take a class. Yet, you would love to learn to make one of these fabulous umbrellas. Well here's how.
Sign up for the Zoom Umbrella Class by clicking https://www.etsy.com/listing/1005940134/zoom-umbrella-class?ref=shop_home_active_1&frs=1
The class will take place on June 21st at 10:00 a.m. Central Time. When you click on the above link, you will be purchasing the class and the umbrella and the pattern. It is up to you to have the fabric that you will need. You can buy it from us or from your local quilt shop.
You will be sent a link via email for the zoom class prior to class. Please make sure that your email is correct on your purchase of the class.
Please read this carefully.
You will be sent an umbrella frame and a pattern booklet. You will need to have your umbrella wedges cut out prior to class.
There are tips for cutting out the pattern from your fabric in the booklet. If you desire to make a facing for your umbrella instead of a rolled hem, please purchase an additional 3/4 yard of fabric.
Fabric amounts for the umbrella are as follows:
overall print with no direction 2 yards
one way print or directional fabric 3 yards
If you're doing every other panel a different color (4 of one color 4 of another) you need 1 1/2 yards of each fabric
Additional 3/4 yard of fabric needed for facings if you are doing facings instead of rolled hem.
supplies:
8 safety pins
seam ripper
thread to match fabric
hand sewing needle (needle used for sewing on a button)
sewing machine in excellent working order
1 inch piece of velcro with both the hook and loop sides
turning bodkin or other item for turning a strap right side out
water proofing spray (won't be used on day of class)
water proof glue
Cutting:
You must have the umbrella pieces cut out prior to class.
2 x 10 inch strip of fabric for strap
8 wedges using the pattern for the umbrella
8 facing pieces only if you're not doing a rolled hem. If you choose the rolled hem you will not need the facing pieces.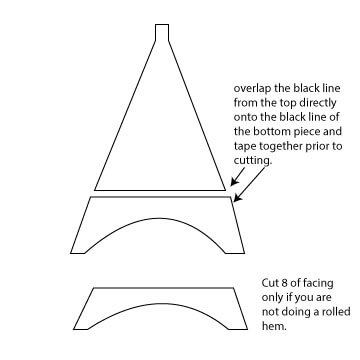 Be ready to start sewing! This will be such great fun. You will find that you will be making them over and over again.