Here is where you go to sign up! Do it quickly! Class sizes are limited. 
Saturday, March 17th promises to be a wonderful day full of exciting events.  It will be located at the First Congregational Church in Ripon Wisconsin at 220 Ransom Street in the beautiful new, spacious and fabulously lit fellowship room.
Saturday's Events:
Cost for full day of events $35
Check in begins at 8:00 a.m.
9:00 am
---
Trunk Show by Mary Sue Fenner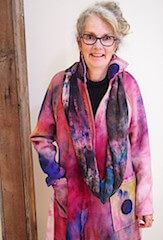 One-of-a-Kind Garment Trunk Show with Mary Sue Fenner
Jacket Trunk Show and Lecture
Listen to an energetic and inspirational presentation about my journey cutting and sewing hand woven fabrics to making wearable garments from quilting cottons to vintage linens. The audience will be able to try on garments, photograph garments and get tips for making your own garments. New and traditional sewing techniques will be explored.
Bio for Mary Sue Fenner
A  Clothing, Textiles and Design major at U. WI-Stout, art studies at Newcastle-Upon-Tyne Polytechnic, England, Kansas U., Viterbo University and a UW-Milwaukee Masters gave Mary Sue an excellent background in fibers.  Retired instructor, at Northeast Wisconsin Technical College, Green Bay, WI. Noted for use of bright colors and her own handspun yarns, her clothing and accessories are seen in area shows, galleries and shops, and featured in Handwoven, Shuttle, Spindle & Dyepot, Belle Armoire, Altered Couture, Sew Somerset and Haute Handbags magazines.
Style and Fashion Show of Local Quilters and Sewists
11:00 am -12:00 pm
---
See local quilters and sewists model their unique creations on the "Runway". They will discuss their techniques and the inspiration behind each wearable.
1:00-2:30 pm
---
Ken Gamache of QT Fabrics presents "The Ins and Outs of How Fabric is Made"
Ken Gamache of QT fabrics will have a special gift for each person in attendance. He is the President of QT Fabrics, formerly Quilting Treasures. QT fabrics is the parent company of Ink and Arrow fabrics, June Bee, Antiquities, Art Works, Studio 8 and more. He will give an interesting talk and video about Quilting Treasures, a division of Cranston Print works which has been in operation in the US since 1807.
3:00-4:00 pm
Kim King Schulz of Northeast Wisconsin Modern Quilt Guild
Kim and other members of the NEW MQG will discuss the evolution of Modern Quilt Guilds and present some work created by the members of the NEW MQG. She and members will discuss why Modern Quilting has differentiated itself from other forms of quilting and how it is the same.
Water and light snacks will be available for purchase in the fellowship hall throughout the day.