So very recently a very attractive young man came in to the shop. He was holding a blanket that his wife had used and loved. She wanted a new one. Hers was worn out from loving it too much! Problem: it's made with silky fabric that was probably a combination of silk and polyester. Slinky was my first thought.
So, I had some of the Robert Kaufman silk/cotton blend fabric in the shop and started making her a new one using that. All was going well. I cut the piece to size. Then, the backing fabric was not the Robert Kaufman but a slinky poly that I had from AE Nathan. The fabric is beautiful, and exactly what his wife wanted.
So, I cut the pieces to size and put the batting in between. Basting was particularly important. This type of fabric is slinky. I don't know a better word to describe it. Shifty and slinky.
I feel like it's a good challenge. I like to work with things that are not just 100% cotton because how else do you get to understand different fibers and fabrics unless you work with them? You don't. The only way to have any knowledge is to have experience.
Then, after it was pinned I started to quilt it. I had to make a decision. They didn't want quilting of any design other than straight lines. I explained that since I would be doing this on my Bernina Q20 they may have to be wavy lines. The only way to get a perfectly straight line is to do ruler work, or have a computer and that was going to cost a whole lot more.
So, I decided to put painter's tape on it and stitch along the edge of that. Well, painter's tape would have worked well on cotton, but guess what? The fibers on the satiny stuff must be coated with something that makes them shiny that doesn't stand up to the tape.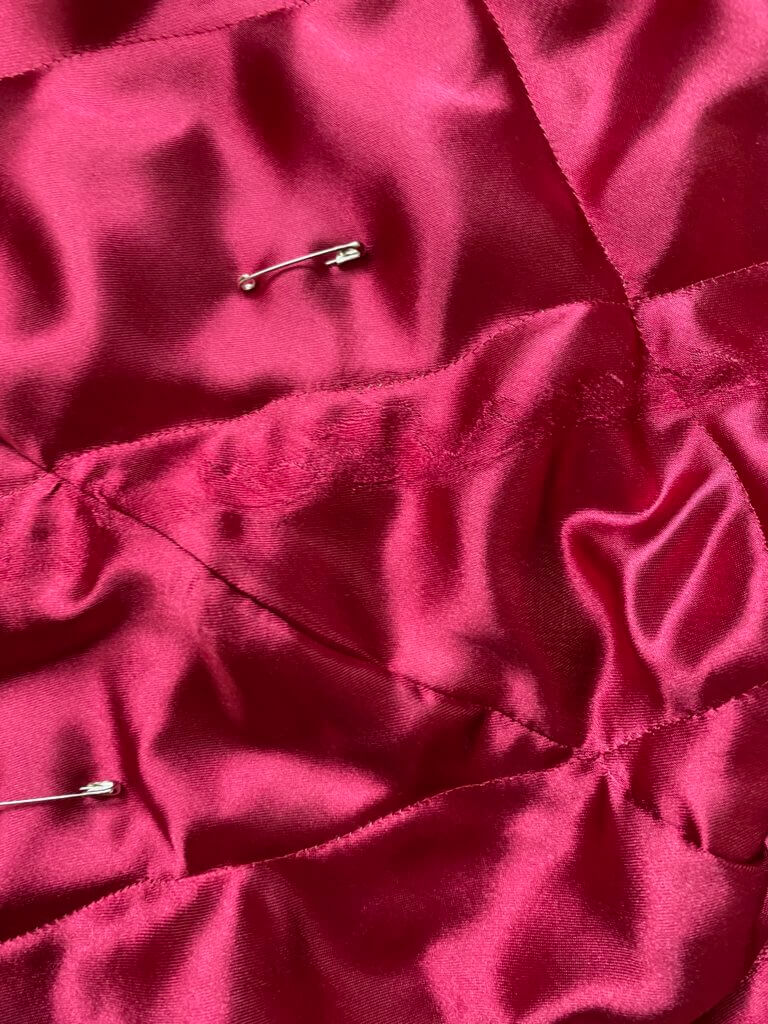 Here's what happened when I removed the tape. It only happened in a couple of spots but enough to kill it. This was done and over. There's no way to give someone this and charge them for it. The fibers were lifted and pilled under the tape, and it was a result of pulling it off.
So, start all over.
This time I used the silky satin from Shannon fabrics in the other color they requested.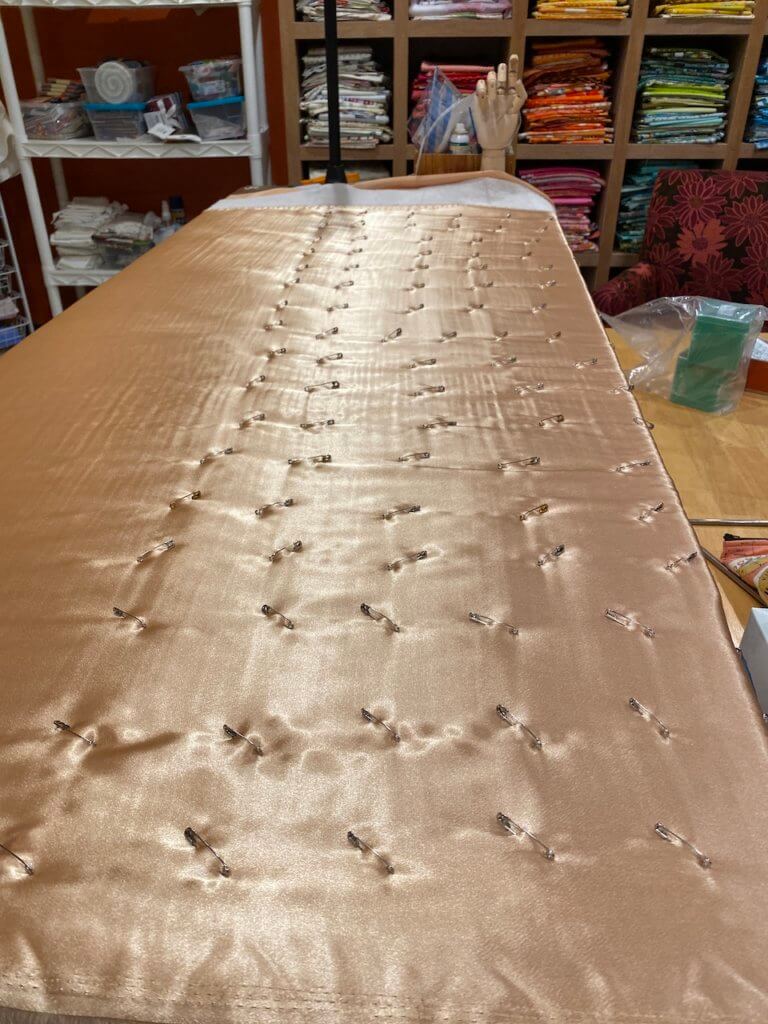 Back to the drawing board. I have pinned it really closely and this time I am going to draw the lines on.
I drew little dashes with a washable marker. I tested the marker on the fabric first and indeed it does wash out quite easily.
This fabric is slinky to say the least. Even when heavily pinned it shifts. However, you can minimize the shifting with the pinning and the results are gorgeous.
If you've never quilted on something silky or satiny, expect to loosen your tension a bit. If you think that puckers around stitches are noticeable on cotton, they're very noticeable on silk. Expect to increase your stitch length if you're not using free motion. I did a combination….this customer wanted straight lines, and I did it on my Bernina Q20 which is a free motion sit down quilting machine. It has excellent stitch regulation. I didn't want to do ruler work, so I traced small little dashes using a washable marker.
How'd that washable marker turn out? It came out beautifully. I used Rose Art washable marker in blue, and I tested it on a piece of the fabric prior to doing it.
The binding was done using regular cotton. I could have used the silky, but wanted a contrasting edge.
I do think that this will be up and coming. I do think and anticipate that the silkies will be used more and more for backings. It has a definite midcentury flair.
I did do a baby quilt with silky on one side, and cuddle on the other side. The blog post for that can be found at
It's really quite stunning. Trust me…it is coming and it's beautiful. Time to deliver this one to its rightful owner.