We are located in Ripon, Wisconsin on Hwy 23, west.  Our address is 646 West Fond du Lac Street.  We are only 20 minutes from Oshkosh, 20 minutes from Fond du Lac, and an hour and ten minutes from Madison. 
Hours: Monday-Saturday 10:00 a.m. to 5:00 p.m.
Sunday Noon to 4:00 p.m.
Special Hours may apply during shop hops where we will be open longer than usual.  Call ahead 920-517-1910 or 920-748-2905
Closing at 3:00 p.m. Sunday April 6th for bridal shower.  Sorry for any inconvenience
Here's our new motto:  If you see it and like it you'd better get it because it won't be here when you come back.  We have been selling out of bolts of fabric very quickly.  If it's something special, you should get it because if may not stick around.  We are the only shop in a large geographical area to carry the lines that we carry.  We are one of the only shops in the State of Wisconsin that carries Art Gallery fabrics.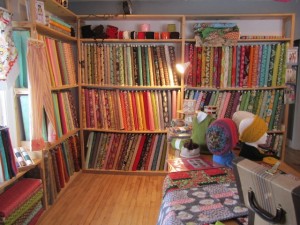 Hello from Bungalow Quilting and Yarn!  Bungalow is a contemporary quilt shop with tons of yarn and fabric tucked under our little roof! Located on Hwy. 23 west in Ripon, Wi., we are in the perfect location to just pop in and have some fun. Our address is 646 W. Fond du Lac Street. Now open 7 days per week!  There is a great variety of fabric and yarn, with an emphasis on natural fibers such as wool, alpaca, mohair, bamboo and more.  We have fabrics available from Moda, Michael Miller, In the Beginning, Clothworks, Troy, Westminster Fibers and Art Gallery.  We are one of a few shops in Wisconsin to carry the beautiful Art Gallery fabrics.  Make sure you check out the classes page.  There are many classes to choose from, and we are extremely flexible if you can't fit into our schedule…we will fit into yours.
We are the home of the bathtub full of yarn!  Come and check out the bathroom.  You might never want to leave!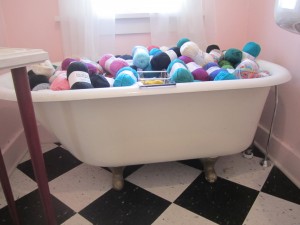 See our class list under the "classes" tab.  There are some great classes to sign up for.  
Every day is open knit at Bungalow Quilting and Yarn.  Come in and knit, meet new friends and learn new techniques!
Come in and ask for a demo of the fabulous
3 1/2, 4 1/2 and 5 1/2 inch Template Block System.
These templates and book have sold out at all other shows and guild demos!  Come and see a demo for this unbelievably useful and creative system. Developed by Judy Gauthier, owner, Bungalow Quilting and Yarn